Travel
My guide on applying for Schengen Visa to travel Europe from Saudi Arabia
Since I spent so much time researching about the topic, applying for Schengen, and getting the Schengen visa finally stamped on my passport, I believe I can almost consult people about visas professionally. 😅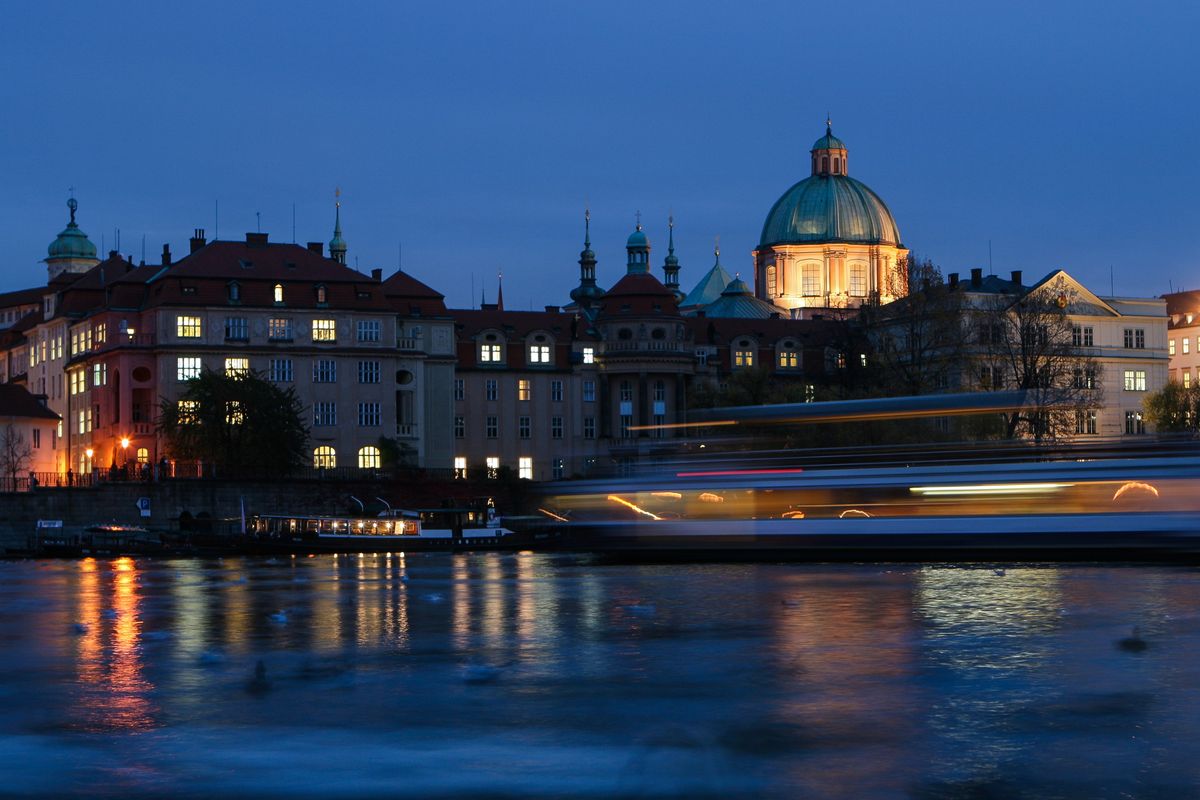 How to apply for a Schengen visa to travel Europe from Saudi Arabia? That's a question that I've been desperately in search to find an answer for not so long ago myself. Though there are plenty blogposts about applying for visas everywhere on the web, I realize that people are always curious about every little detail of applying for the Schengen visa and wants to know more and more about it.
Since I spent so much time researching about the topic, and applying for Schengen, the US, and the UK visas over the last year, getting all of them refused yet still keeping at it somehow and getting the Schengen visa finally stamped on my passport, I believe I can almost consult people about visas professionally. 😅
I was invited to an annual Google summit known as Firebase Summit for October 29th, 2019 and while waiting for my Visa Request Letter from Google, I gathered together rest of the documents I'd need for the application and also started researching why I was rejected for my trip to Germany and what changes should be made in order to convince the consular to accept my visa.
Let's dive right in into the process I followed to get my visa approved. I like to talk about each step of the process with the timeline (like I did in my story HERE) so that you can figure out how long the visa takes to get processed.
Aug 31st: Received the Visa Support Letter from Google.
Sep 20th: Visited the bank to get my last six-month bank statement.
Sep 22nd: While I could help myself gather most of the documents, there are three documents that I needed from a travel agent:
A travel itinerary (since it's not a good idea to book your flight before you're granted the visa. The travel itinerary that you receive from a travel agent is reserved for a very short i.e 48–72 hrs, so it's best to receive one just a day before your visa appointment)
Hotel reservation (though you can easily reserve a hotel visa from Booking.com for free yourself), and
Medical travel insurance (you can buy them online from the insurance companies directly but it's best to buy through an expert like an agent).
So on this day, I visited the two Accredited Travel Agencies to ask them how they can help me. The two travel agencies are accredited by the Embassy of the Czech Republic: https://www.mzv.cz/riyadh/en/visas_and_consular_information/visas/short_term/accredited_travel_agencies.html
In case, the link is broken, they are:
1) DUNIA ALREHLAT TRAVEL & TOURISM, Al Ihsa Street, Al Malaz, Riyadh, K.S.A. — booking@tour4u.eu, www.tour4u.eu, tel.: 11–474 4888
2) ROWAD AL NAKAHA For Tourism and Treatment Trips, Olaya Street, King Fahad District, Riyadh, K.S.A. — info@alnakaha.com, www.alnakaha.com, tel.: 11–222 22 53.
I figured that Rowad Al Nakaha were way pricier, were not very flexible, helpful or kind. So I talked with Dunia Al Rehlat about my planned trip from Oct 27th to Nov 3rd and they suggested that I visit them just a day before my visa appointment and they'll provide me the three documents that I need.
Sep 24th: Created an account at the Visa Application Centre (https://www.vfsglobal.com/czechrepublic/saudiarabia/Schedule_an_Appointment.html) and booked my appointment for Sep 25th. This is where you pay the visa application fee + VFS service fee, which was SAR 110.04 at the time.
We can also directly submit our applications by visiting the Czech Republic embassy but since I could not find any available date before Oct 14th, I decided to go with VFS instead.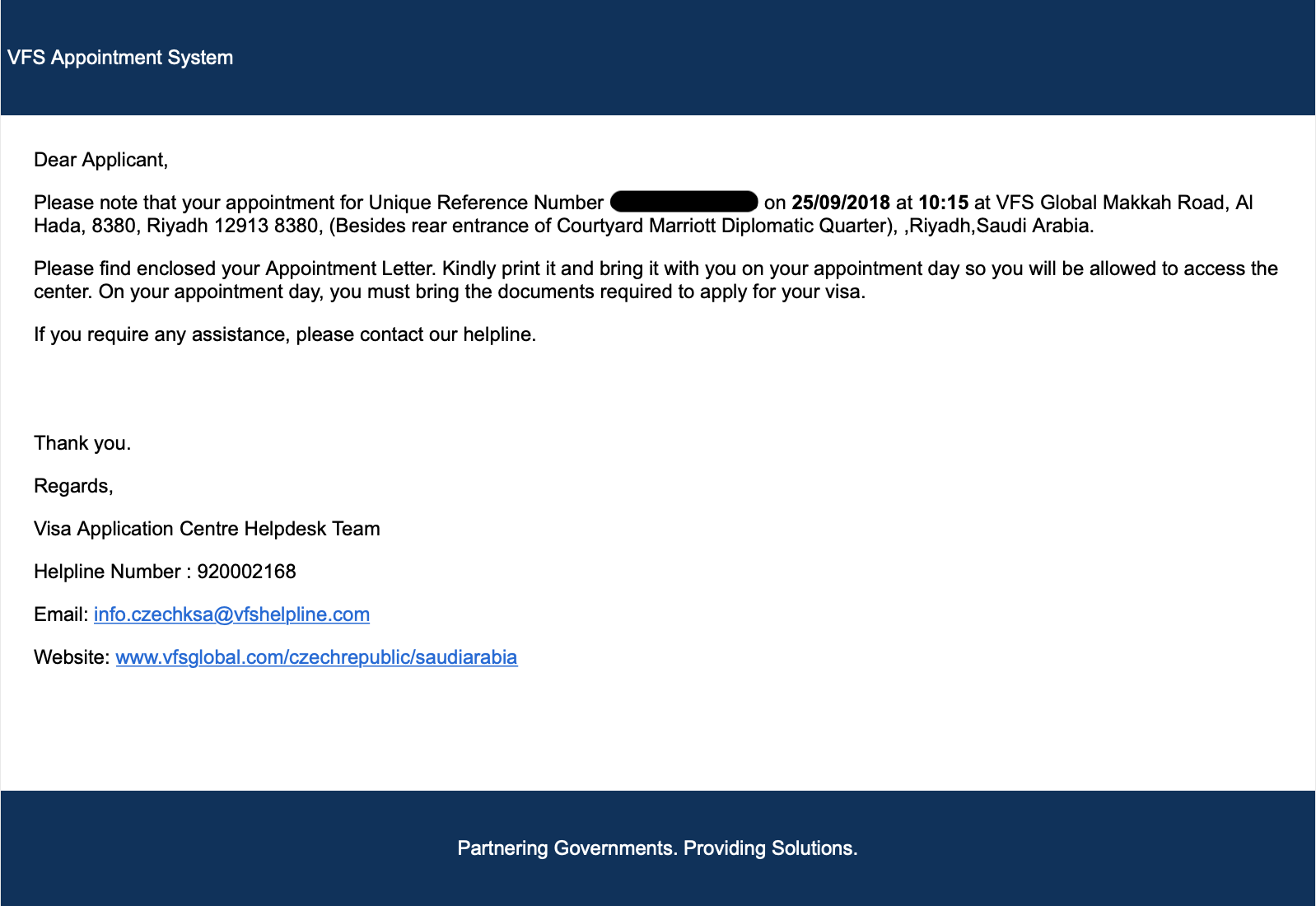 Sep 24th Evening: Visited the travel agency to create my flight itinerary, hotel reservation, and a 14 days travel insurace. The amount I was charged for all three was SAR 213:
SAR 63 for AXA Insurance from Oct 27th to Nov 4th (9 days).
SAR 150 for flight itinerary + hotel reservation.
Sep 25th: Visited VFS for the visa appointment. Here are all the documents that I had that day:
Passport Size Photograph (3.5 x 4.5 mm with a light background)
Original Passport
Copy of Passport
Original Iqama (Permanent Resident Card)
Copy of Iqama
Visa Support Letter from Google
Visa Cover Letter from myself stating my home address, designation, start date of employment, purpose of the trip, and the travel dates.
Hotel Reservation
Flight Ticket Reservation
Six-month Bank Statement, stamped by the bank.
Exit Re-entry Visa
Employment Letter stating the hours I work, my designation, my wage, and the start date of my employment. (Since I work remotely and my employer is not in Saudi Arabia, it was just a plain letter with no stamp or attestation)
Employment Agreement (Not really required)
The one thing I did not have that day was a sponsor letter (my employment letter wasn't enough since it wasn't from an employer based in Saudi Arabia) which turned out to be an important document and the visa application center did ask for it. I did try to convince them that my employment letter would be enough to go with but finally realized that they're kind enough to check all my documents and ask me for the required documents before sending them to the embassy. So I did not submit my application that day.
Sep 30th: I asked my dad for his sponsor/employment letter since I was under his sponsorship. He contacted his sponsor who was kind enough to provide the sponsor letter attested by Riyadh Chamber.
Oct 1st: Booked another appointment at VFS for Oct 2nd.
Oct 1st Evening: Visited Rawnaq For Certified Translation to translate my dad's sponsor letter (They charge SAR 50 for a translation). After that, visited Dunia Al Rehlat again to create another flight itinerary. They understood my situation and created the itinerary for no additional charge.
Oct 2nd: Visited VFS. They new and additional documents I had were:
Attested Sponsor Letter with Translation
No Objection Certificate from my dad (a letter stating the purpose of my trip, his employment details, and contact details)
New flight itinerary
New Appointment Confirmation Letter
Hotel reservation from Booking.com
The visa application center still did not look very satisfied while looking through the documents. I now had the sponsor letter from dad, so they asked for his bank statement, as well. I did not have it. They then asked me to alter the No Objection Certificate and mention that I'll bear all the travel expenses myself, and I did what they said. They accepted my application, and said that I might receive a call from the embassy for an interview or my dad's bank statement, but they're willing to send the application to the embassy anyway.
Oct 4th: Received a status update from VFS regarding my application.

Oct 10th: Received an SMS from VFS at 01:36 PM that my visa application has been processed and is ready to be collected.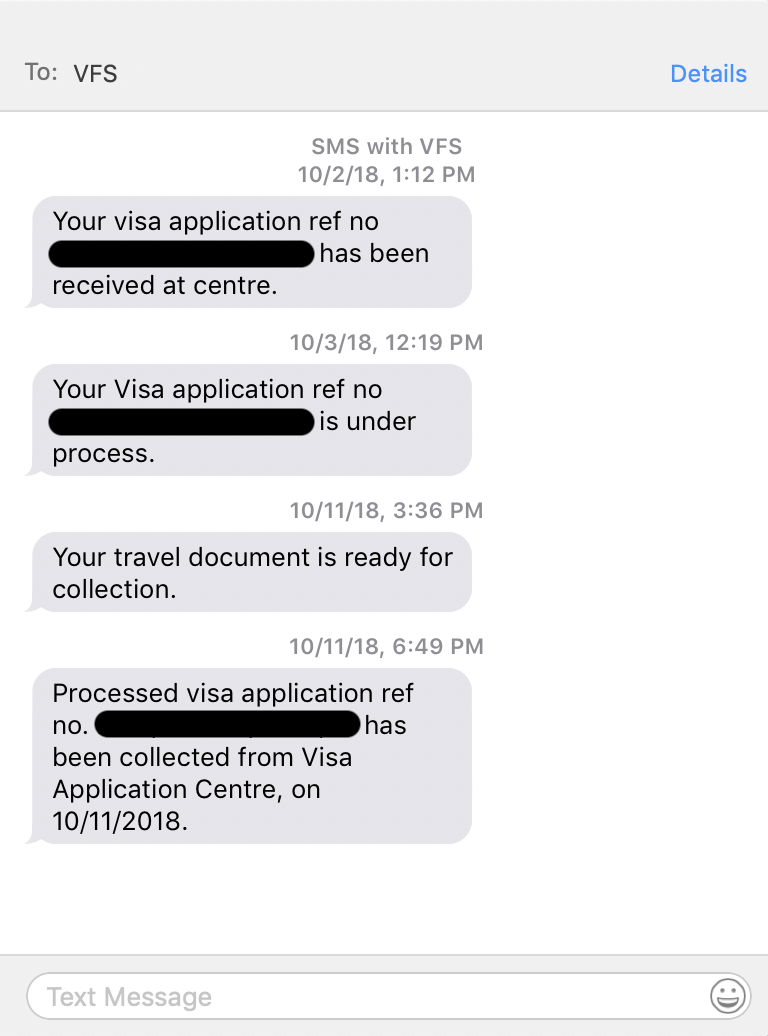 I rushed to the application centre to reach before they closed their counters for document collection. And once received, I opened the envelope to see that all the hard work had paid off! The passport was stamped with the visa sticker. The visa validity was from Oct 27th to Nov 18th but the duration of stay was 8 days, which was what I had mentioned in all my documents.
It was yet another long procedure and continuous waiting but since it paid off well, it was all worth it! So I was more than happy with all the hard work that I did for it.
---
If this post helped you, you might also be interested in other relevant stories that I recently published: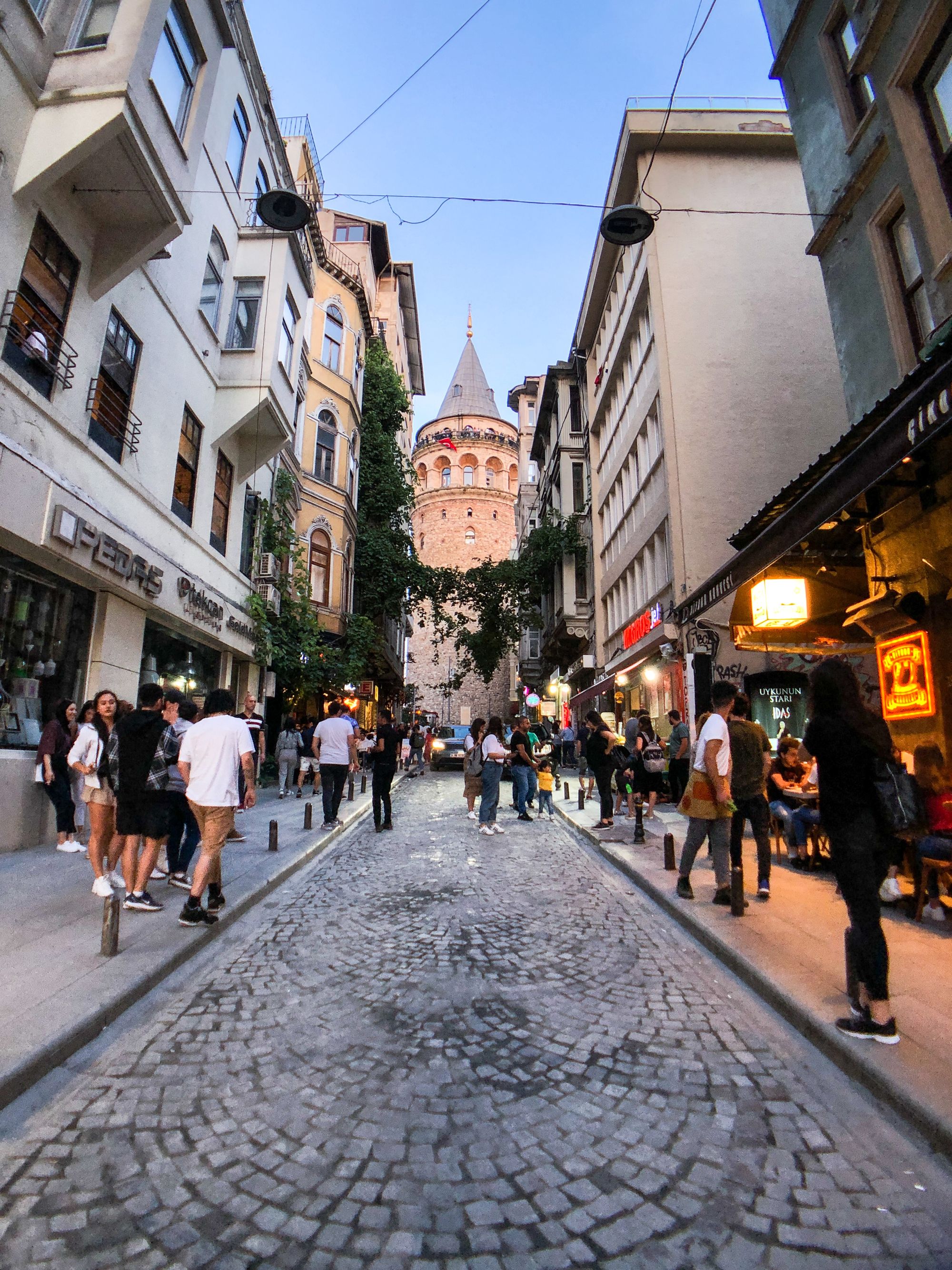 ---
Like always, if this post helped you at any step of the process at all or if there's anything further that you need clarification on, do write to me on instagram.com/waseefakhtar or twitter.com/waseefakhtar.
Happy traveling! ✈️