Travel
Singapore Travel Guide – Transportation, Food, Places to Visit (Part II)
I'm writing this blog post to help you plan your trip to Singapore and make the most of your time there, regardless of the weather.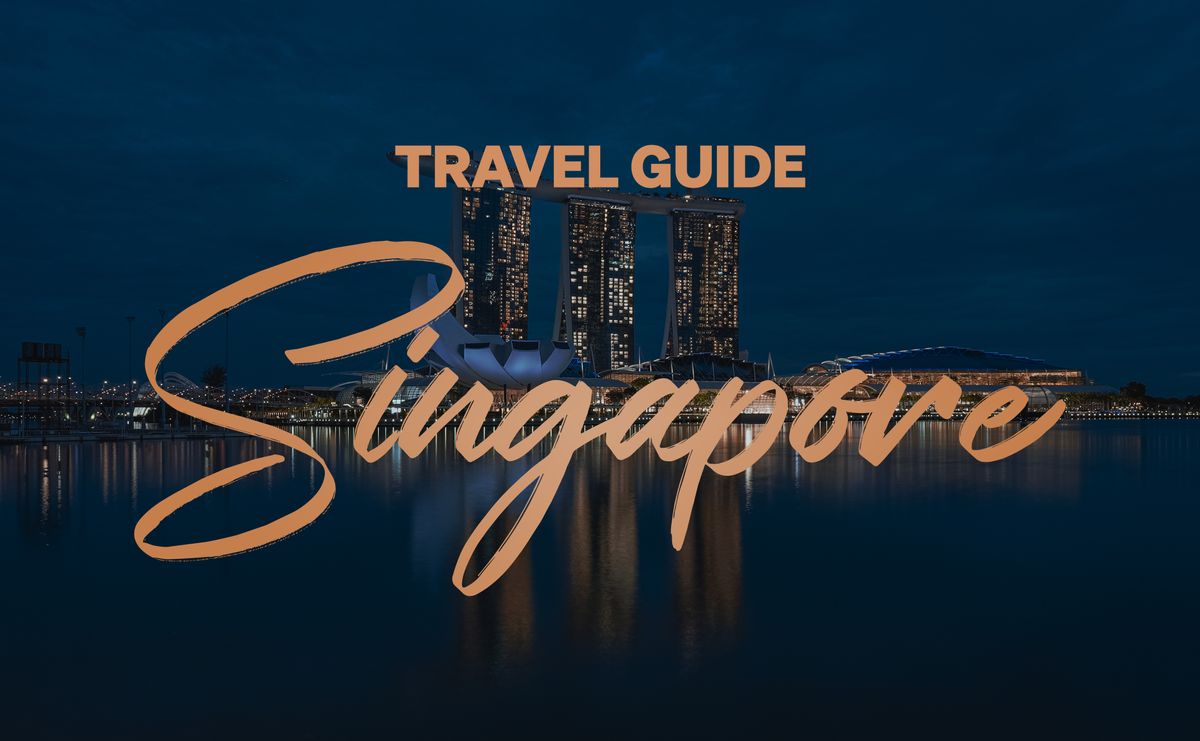 Singapore has always been a dream destination for me, and I was so excited when I finally planned my trip there.
While researching and preparing for my trip, I noticed that there were not many blog posts covering the specific topics I was interested in.
That's why I decided to publish the first part of a blog series on things to consider before traveling to Singapore, including visa requirements, booking flights and hotels, and COVID-19 guidelines. Here's the link to that blog post: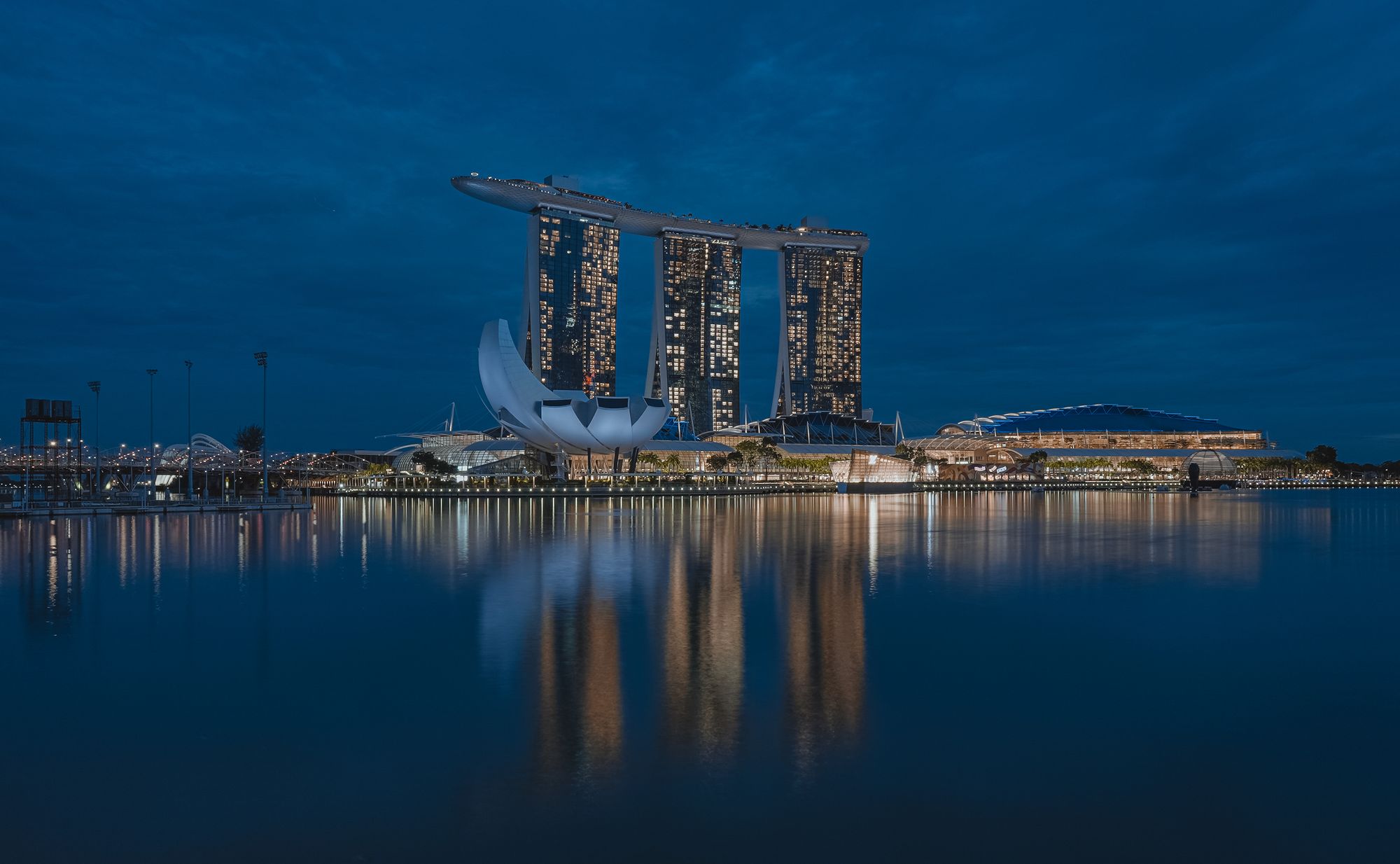 Now.
What are the things you need to know after you've reached Singapore. That's exactly what this blog post is about. It covers:
Transportation
Food
Places to Visit
Shopping
Weather
Costs
As I read many guides when planning my day-to-day activities, I noticed many guides failed to provide information on how to plan the activities based on the weather.
In my own experience traveling to Singapore, I found it helpful to consider whether it was raining or not when deciding where to go.
If it was raining, I made sure to visit indoor places, and if it was sunny, I took advantage of the beautiful outdoor locations.
However, I also made some mistakes along the way and had to figure out some things on my own.
That's why I'm writing this blog post - to help you plan your trip to Singapore and make the most of your time there, regardless of the weather.
🚌 Transportation
Cost: 12 SGD
You can purchase transportation cards for the MRT metro and buses at money exchange locations in the airport. MRT metro is the cheapest way to get around. So this card will make it easy for you to get around the city during your trip.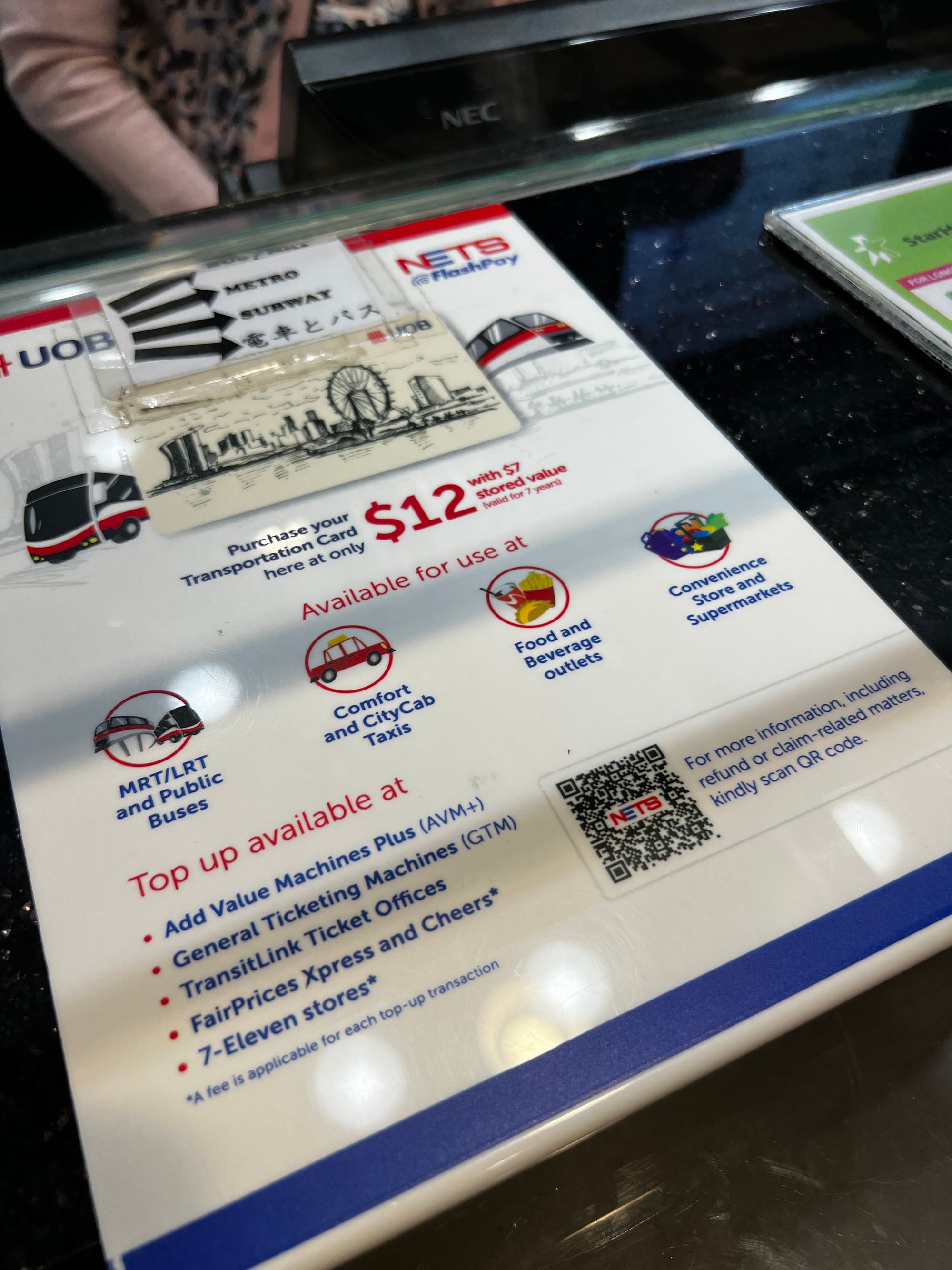 📱 SIM Cards
Cost: 32 SGD - 50 SGD
You can also purchase prepaid SIM cards at any money exchange location at the airport.
I didn't research a lot about which carrier to go for but Starhub seemed to be found every where around the airport and I haven't had any issues with the connection, except the long wait time after I activated it for the first time. But that could've been a glitch only occurred to me.
You can find some packages and get an idea here. 👇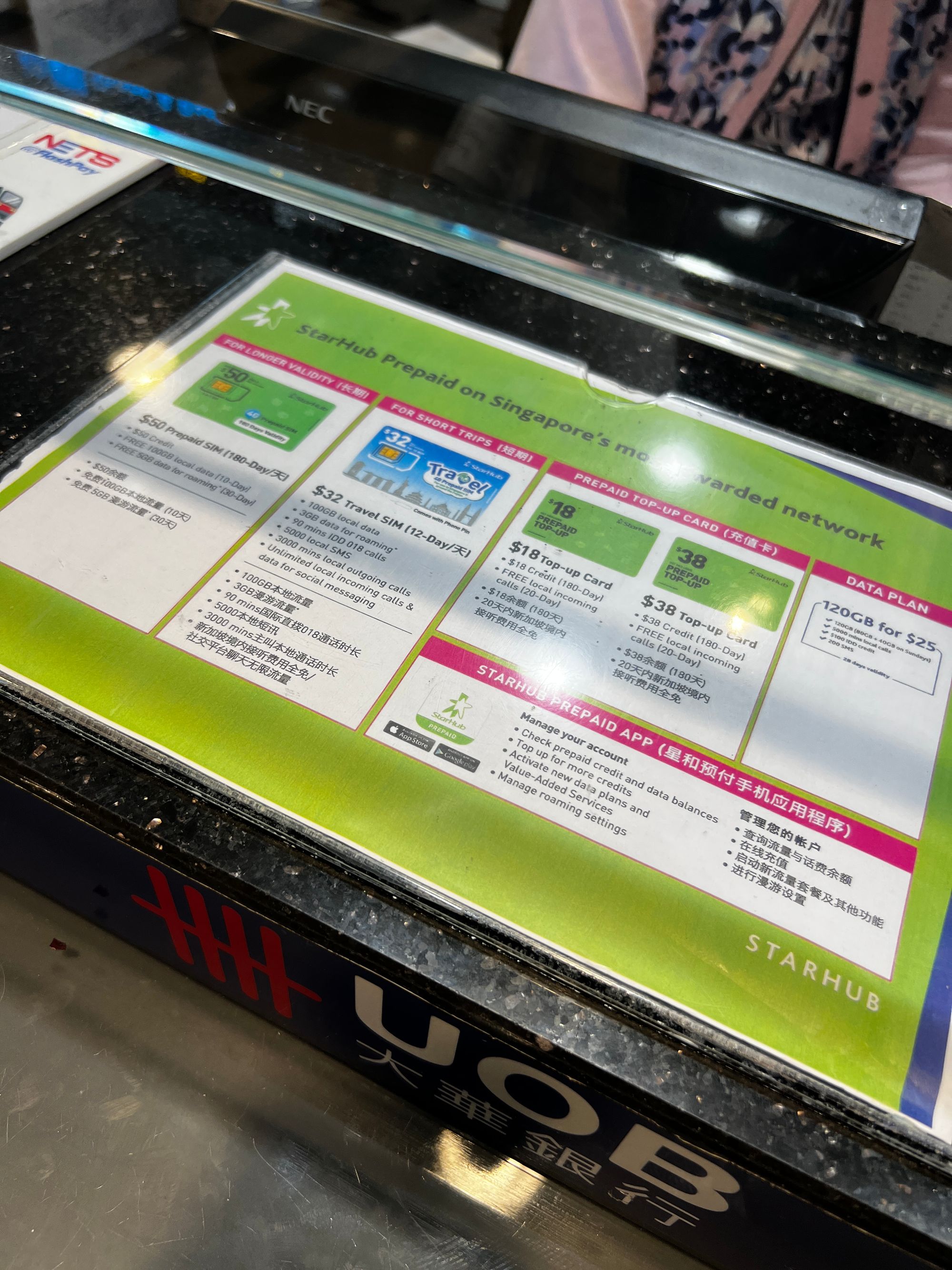 🍔 Food
Cost: 5 SGD - 50 SGD
Food in Singapore tastes really good for some reason.
Cherry on top: Most food is halal friendly.
You just have to look up the "Halal" label framed at restaurants or Google it up.
I think that's because it is majorly influenced by their muslim neighbors, Malaysia and Indonesia.
I found food in Singapore super hygienic and very tasty.
I really enjoyed the taste of some of the well-known burger chains, such as Burger King and McDonald's. It was interesting to compare their flavor to how they taste in places like Dubai or Riyadh. The burgers were fresh and didn't make me feel bloated, and the taste was so good that it lingered for a while.
Some other restaurants that have quickly become my favorites include:
Josh's Grill (try the Grilled Chicken with Cheese Pasta)
Matchaya (the Mac & Cheese along with the Matcha Milk Tea is amazing)
Kenny Rogers Roasters (the Chicken & Noodles are a must-try)
Shake Shack (the Shack Burger and their signature lemonade are both fantastic)
But again.
Burger King and McDonald's in Singapore are to die for. 👅💦
Protip: If you're used to eating in the Middle East, don't go for Malay food. Chances are, you may find Malay food to be less flavorful.
🌆 Places to Visit
Changi Airport
Type of activity: Indoor
Ticket: 0 SGD
When you reach Singapore, the first attraction that welcomes you is the Changi Airport, which has many attractions. And a shopping mall, as well.
But the one attraction that I was most excited about is to see the JEWEL, which has the world's largest indoor waterfall, known as Rain Vortex.
Note that the JEWEL is right at the center that connects the different terminals of the airport. So it requires a bit of a walk to reach up to.
It's important to note that the JEWEL at the Changi Airport in Singapore can only be accessed after passing through passport control in the arrivals area.
This means that once you have passed through passport control at the departure terminal, you will not be able to visit the JEWEL before your flight. Keep this in mind when planning your trip and be sure to allow enough time to visit the JEWEL.
Here's a mistake that I did:
Mistake: I made a mistake during my trip by only spending a little bit of time at the JEWEL after arriving. I was tired at the time and planned to spend more time there on my way back.
However, when I was at the airport on my way home, I hurried through passport control and went straight to the departure lounge. When I asked there about visiting the JEWEL, I was told that I had missed it on the other side of passport control and there was no way to go back and visit it. It was a frustrating realization, but a lesson learned for the future. 🤦‍♂️
Some other famous attractions at the airport include Shiseido Forest Valley, a theme park, and a slide that take passengers to their gates. I missed them all because of lack of time and the mistake above.
Marina Bay
Marina Bay has a variety of attractions, so you may want to visit this area multiple times to fully explore everything it has to offer.
Marina Bay Observation Deck
Type of activity: Outdoor
Ticket: 23 SGD
This is a deck not to be missed.
This observation deck is at the top of the Marina Bay Sands Hotel and located on the 57th floor.
The best time to visit the top is at sunset.
But.
Make sure that you arrive at the entrance at least 1.5 hours before sunset, as the location is often crowded and there is usually a long queue.
To ensure that you don't miss the sunset, it is advisable to arrive early.
Marina Bay Observation deck offers 360-degree views of the city, including the stunning Marina Bay and towering financial skyscrapers on one side, and a bird's eye view of the Gardens by the Bay on the other. This massive garden features numerous attractions and is located in the heart of the city.
So it's a delight to see it from up there.
Please note that this is just one observation deck in the Marina Bay area and the only one that I visited. There may be others with different heights.
Protip: To save money on tickets, you can try using the Klook app, which often offers discounts on various activities and is super convenient while you're on the go. And here's the cherry on top: Upon sign up, you'll receive free credit that you can use when purchasing tickets.
Also, since the tickets are only valid for the day they are purchased, I did not buy the ticket from the app until I was completely sure that I'm going to make through the queue and not miss the sunset. So it may be best to wait and purchase your tickets while you're in the queue.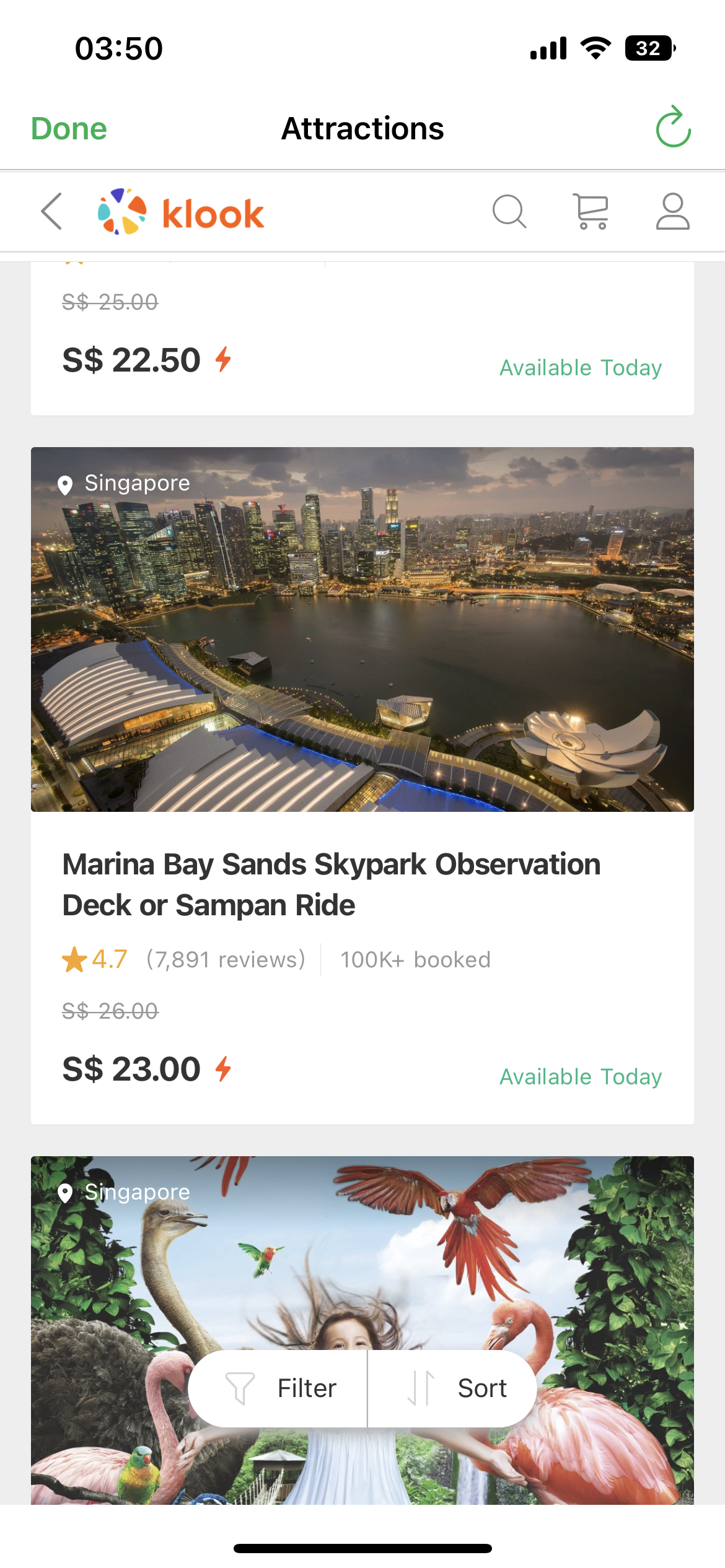 Gardens By The Bay
Type of activity: Indoor and Outdoor
Ticket: 0 SGD
This is another must-see attraction in the Marina Bay area. It is huge and has multiple attractions inside that can easily take up an entire day.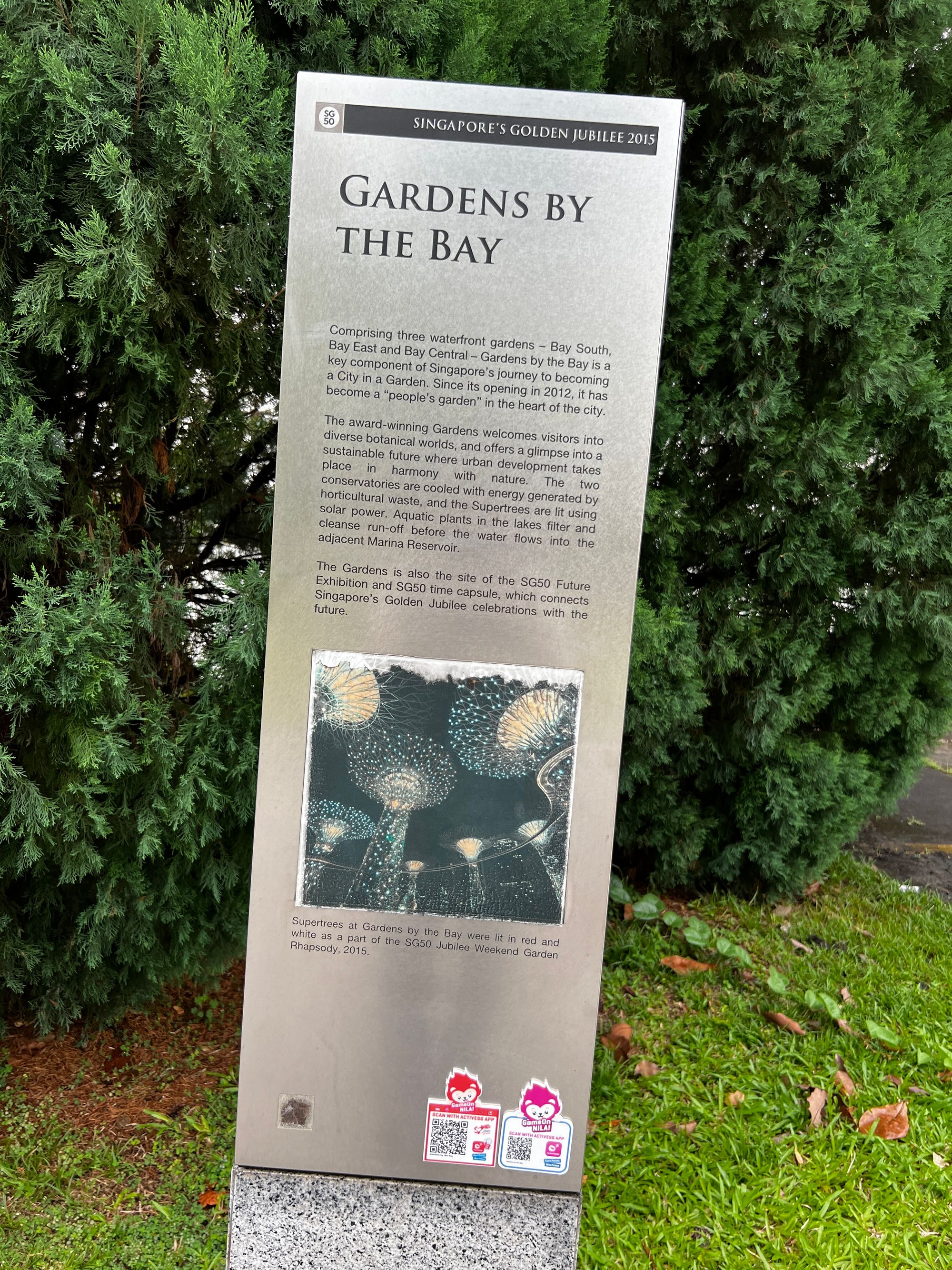 So to make the most of your visit, it's best to arrive in the morning and start with a leisurely stroll through the gardens. Then, you can move on to the attractions like the Cloud Forest, Flower Dome, and Tree Stove.
Choose to visit the Tree Stove either at sunset or afterwards. Let me tell you why in a bit.
Keep in mind that the gardens are a beautiful and peaceful place, so take your time and enjoy the natural surroundings before exploring the indoor attractions.
Cloud Forest + Flower Dome
Type of activity: Indoor
Ticket: 28 SGD
These are two attractions inside Gardens by the Bay. Fun fact is that Gardens by the Bay has its own app where you can buy the tickets if you find a long queue at the ticket counter.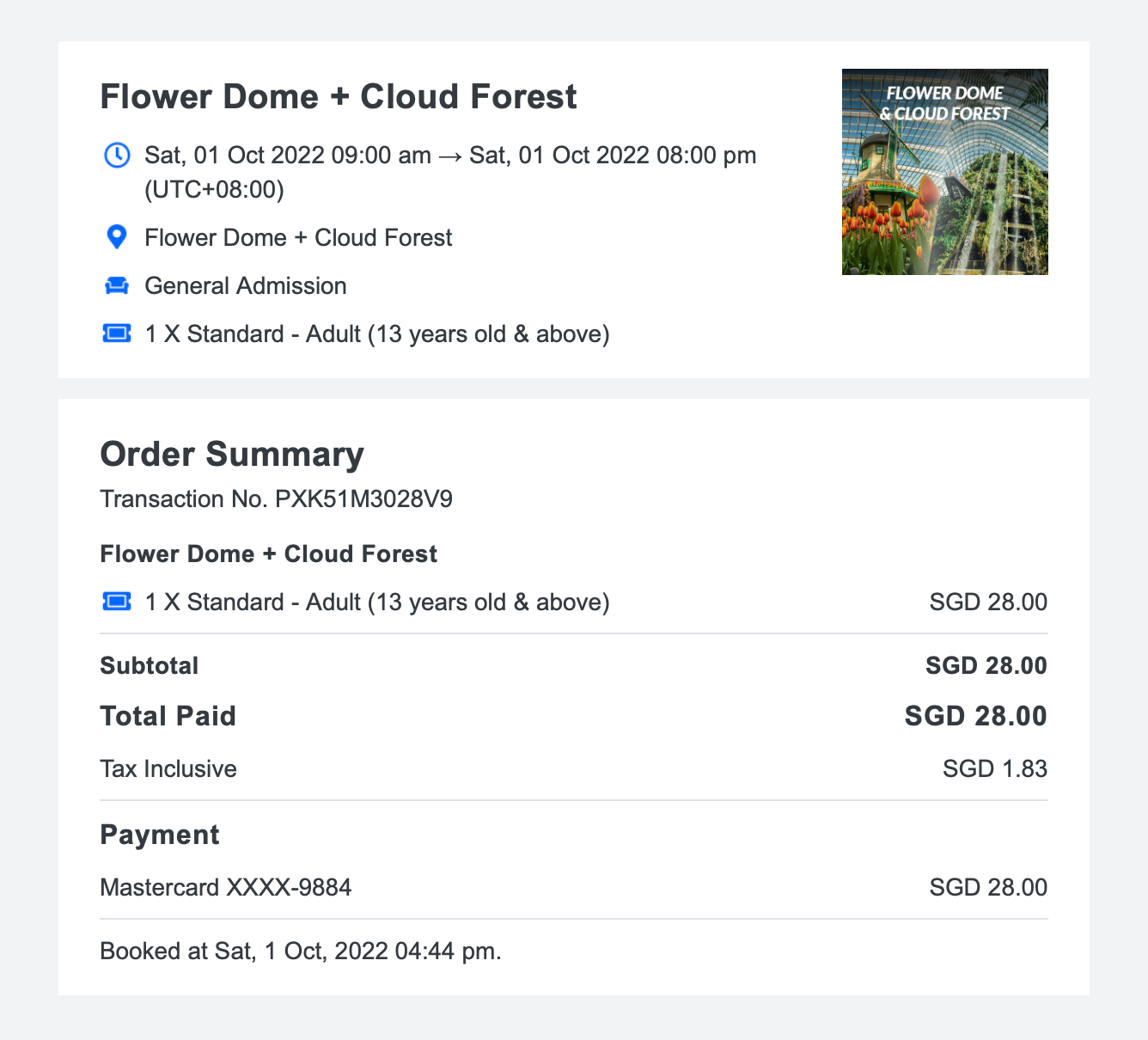 You can get a single ticket for either Cloud Forest and the Flower Dome. But since I'm a plant enthusiast, I had to visit them both.
The Cloud Forest is called a "cloud forest" because it is designed to replicate the cool, moist conditions of high-elevation cloud forests, found in tropical regions around the world. These types of forests typically have a high level of humidity and receive a lot of rainfall, which creates a unique microclimate that supports a diverse array of plant and animal life.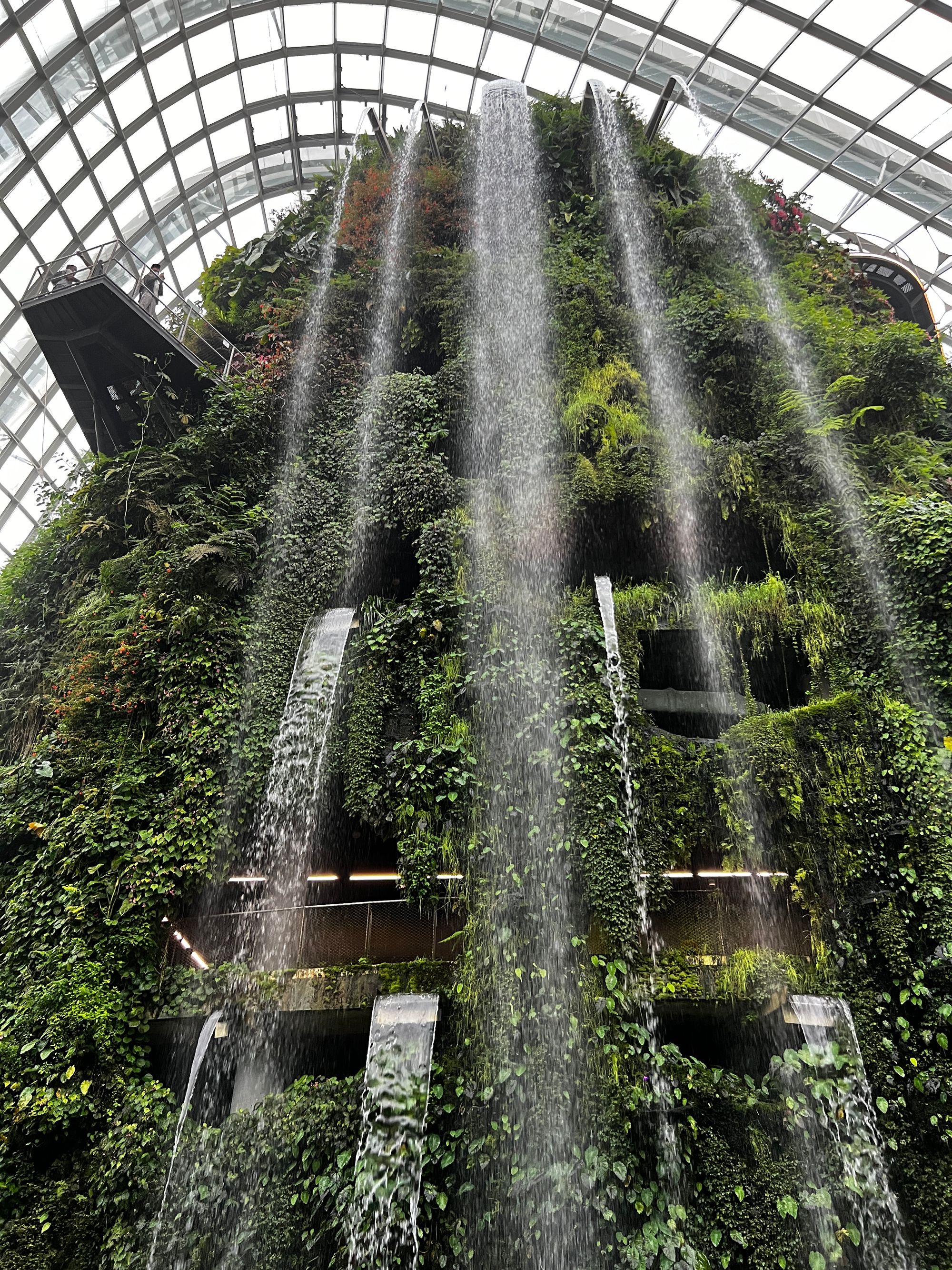 The combination of these features helps to create a lush, tropical environment that is home to a wide variety of plants and animals.
The Flower Dome is home to a wide variety of plants and flowers, including cacti, succulents, and other drought-resistant plants that are adapted to living in dry, arid environments. It also features a number of interactive exhibits and educational displays that provide information about the importance of biodiversity and the role that plants play in maintaining a healthy environment.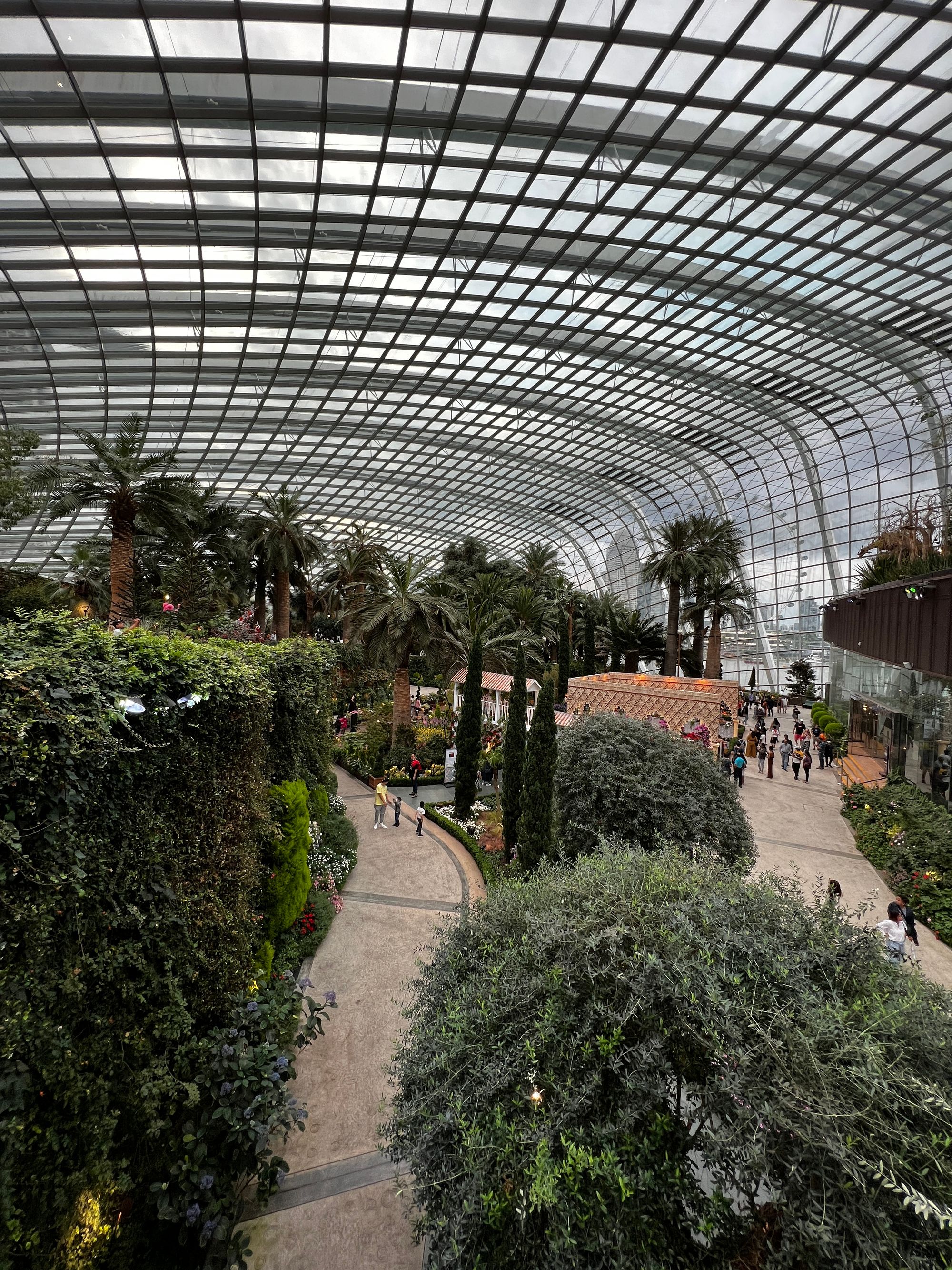 Tree Stove
Type of activity: Outdoor
Ticket: 0 SGD
Another cool attraction at the Gardens By The Bay.
Tree Stove is especially spectacular when it lights up in the evening. So it's best to wait for that.
The Tree Stove is also known for its nightly light and sound show, called the "Garden Rhapsody," which takes place every evening.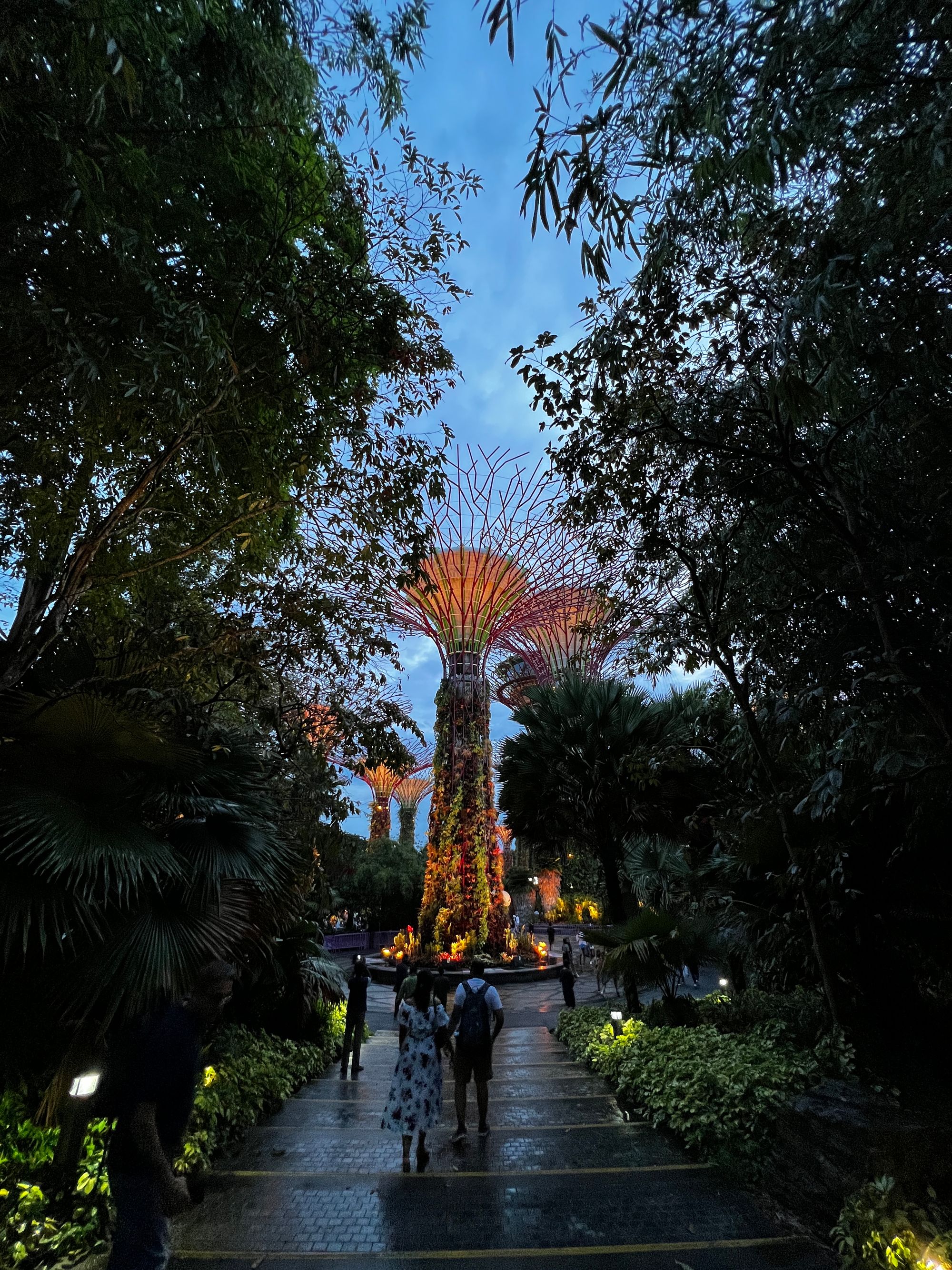 During the show, the Tree Stove comes to life, with the branches and flowers lighting up and moving to music in a choreographed display.
The show typically lasts for about 15 minutes and is a popular attraction for visitors to the Gardens.
There's also a viewing platform at the top of the Tree Stove, but I didn't have the chance to visit the top of the Tree Stove during my visit. I believe the platform close by the evening . So not much information there to guide you best but better look it up on their website.
Sentosa Island
Type of activity: Outdoor
Ticket: 0 SGD
If you're in Singapore and you don't visit the Sentosa Island, you've missed it all.
Sentosa is a tiny island off the coast of Singapore, best known for its largely man-made beaches, scarce natural beauty and unexpected water sports.
I recommend leaving early in the morning to allow plenty of time to travel to and explore Sentosa Island.
To get there, you can take a cab, MRT, or cable car from HarbourFront MRT Interchange. The cable car ride itself is an experience and not too expensive.
The cable cars run both sides of the HarbourFront. One end is the Mount Faber. The other is Sentosa Island.
I was curious and visited Mount Faber but didn't find anything special except the Mount Peak and the Merlion statue.
Now that I look back, I think I could've saved some of that time and could've just visited straight to the Sentosa Island.
By the time I reached Sentosa Island, I didn't have much time before the sunset.
I had planned to visit one of the three beaches on Sentosa Island for sunset, but before that, I wanted to make sure to visit the attractions that were most important to me.
One of these was the Sentosa Nature Discovery, which can be easily accessed from the cable car station upon arrival on the island.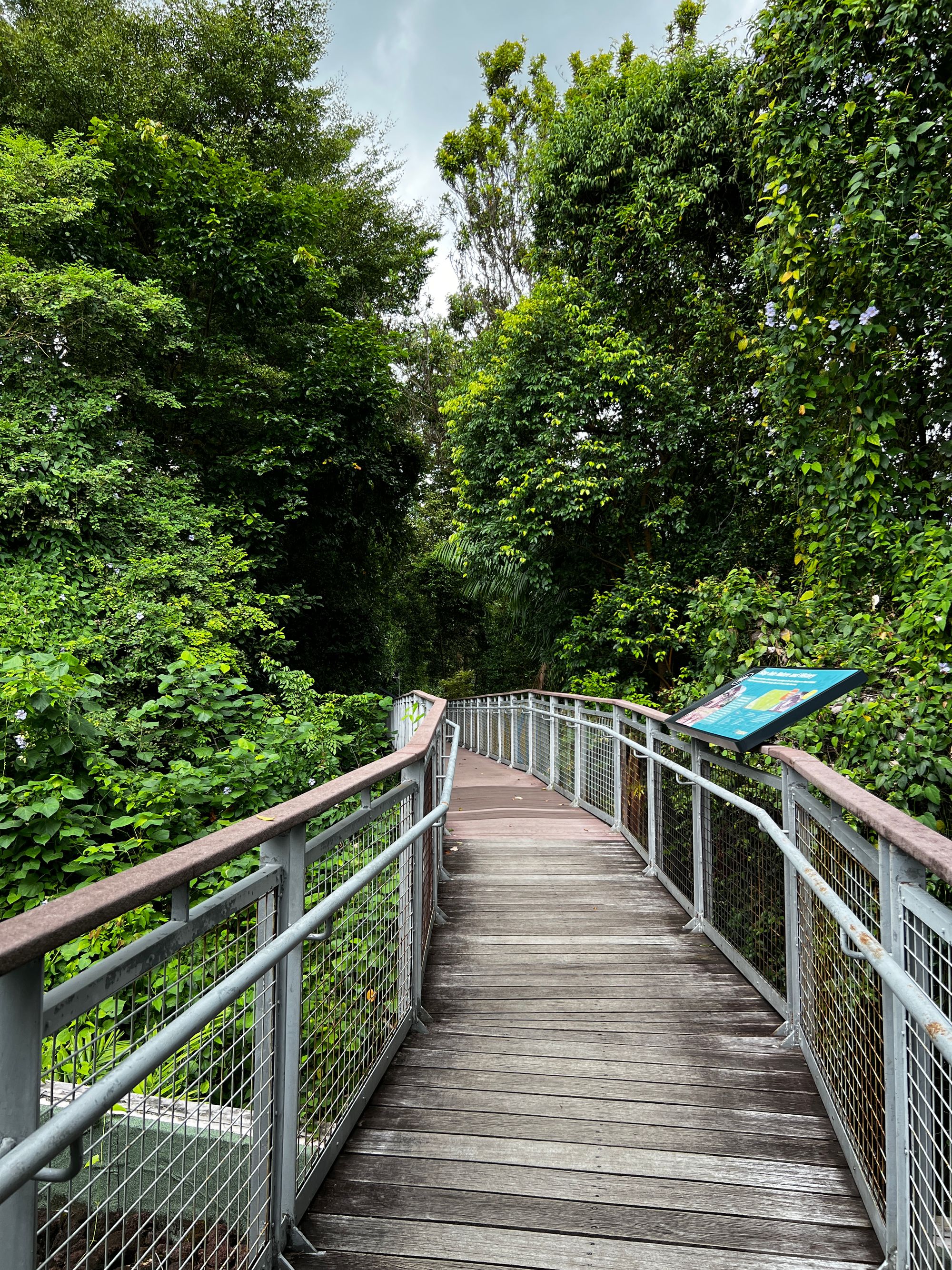 Another attraction that I was interested in was the Universal Studios Theme Park. I took one of the local buses to get there, but when I arrived, I discovered that the park was closed for the day. It was a Wednesday, and the park has its own irregular schedule for operating days.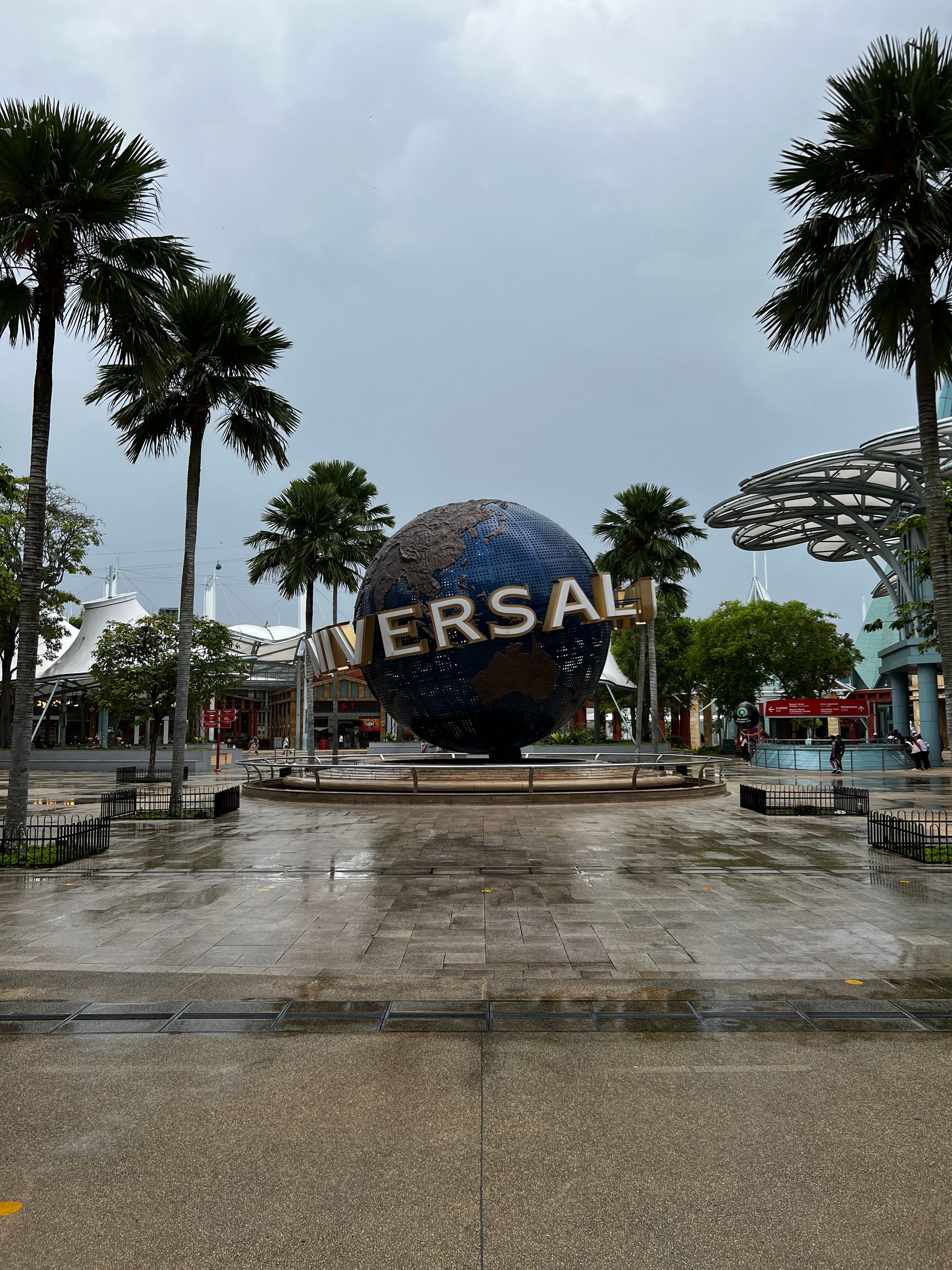 Protip: Check the operating days of the Universal Studios Theme Park in advance. This will ensure that you don't miss out on the opportunity to visit this popular attraction during your visit to the island..
By the time the sun began to set, I had finished exploring the island and was ready to visit either the Palawan Beach or the Siloso Beach. Both of these beaches offer beautiful views, so either one would be a good choice to end the day.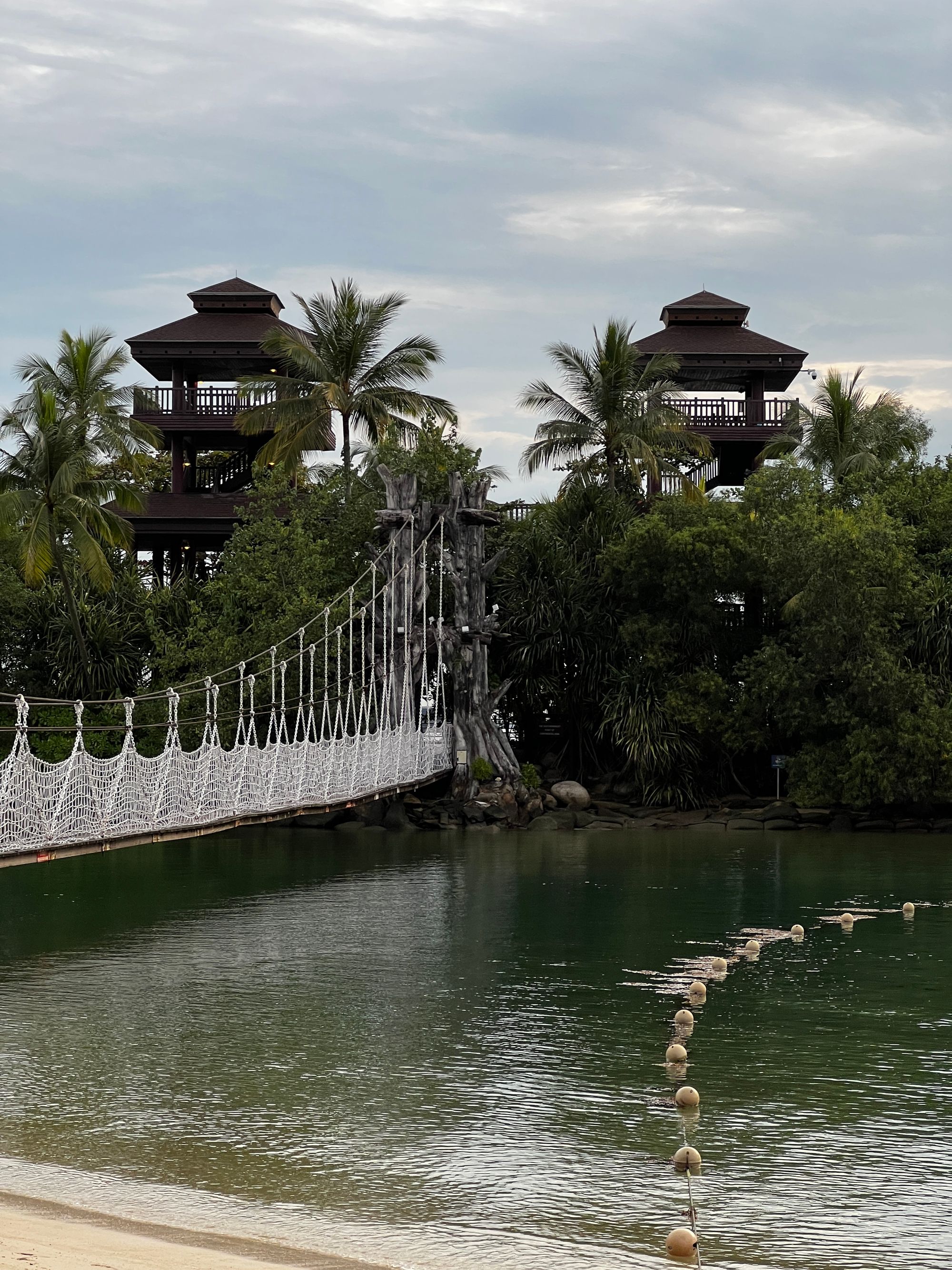 Overall, Sentosa Island is a must-visit destination for anyone traveling to Singapore, and with careful planning, you can make the most of your time there and create lasting memories.
🛍️ Shopping
Type of activity: Indoor / Outdoor
If you have set aside some days for shopping during your trip, consider visiting Orchard Road, which is known for its abundance of shopping options.
With over 5,000 shops and numerous malls, you can find almost anything you're looking for there.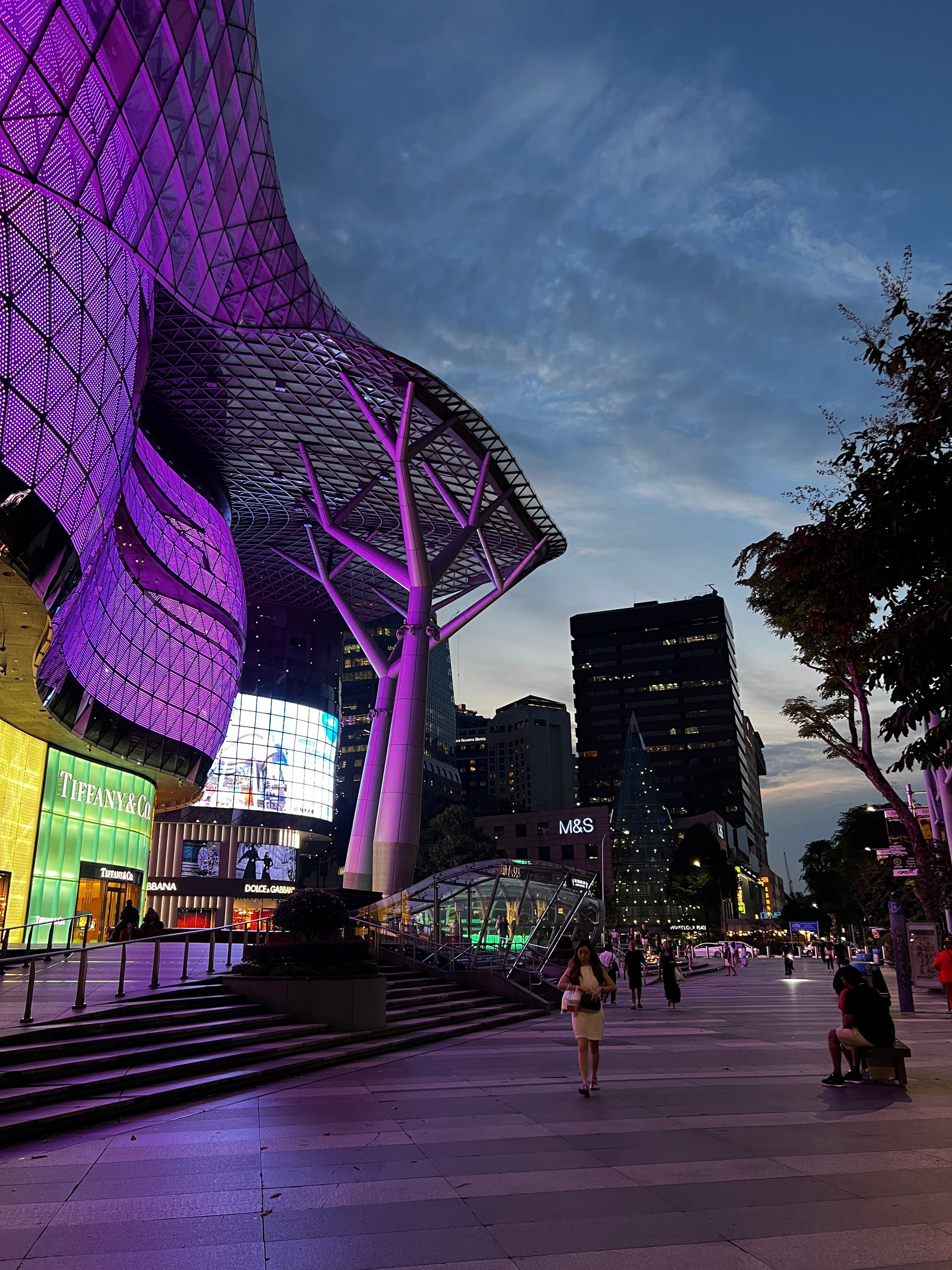 Orchard Road is the perfect destination for anyone looking to indulge in some retail therapy during their trip.
In between your shopping excursions, you can also visit some nearby attractions, such as a large library and the observation deck at the top of ION:
ION Sky Observation Deck
The ION Sky observation deck is located on the 56th floor of the ION Orchard mall, and it offers panoramic views of the city from a height of 220 meters. From the observation deck, visitors can see landmarks such as the Singapore River, the Marina Bay Sands, and the Singapore Flyer. The ION Sky observation deck is a popular tourist destination in Singapore and is well worth a visit for anyone looking to take in the views of the city.
National Library of Singapore
The large library located near Orchard Road in Singapore is called the National Library of Singapore. It is a public library that is part of the National Library Board of Singapore and is one of the largest libraries in the city. The National Library of Singapore is located at 100 Victoria Street, Singapore 188064, near the Bras Basah MRT station. The library is home to a wide range of books, magazines, and other resources, and it also offers a variety of services and programs for the public.
---
And that was it for the things I had known best to guide about.
In addition to the places I mentioned, there are also a few other places that I would have liked to visit if I had more time.
These include China Town, Little India, Fort Canning Park, the Arts & Science Museum, the Museum of Ice Cream, the Chinese Gardens, the Night Zoo, and Merlion Park.
And as an avid Instagrammer, I also made a list of some Instagram-worthy places to visit.
This includes the Old Hill Street Police Station, the Fort Canning Park Tree Tunnel, the Library at Orchard, the Buddha Tooth Relic Temple, the Singapore Botanic Garden, Cafe Monochrome, and Central Park Cafe.
If you have the opportunity, I recommend checking out some of these places during your visit to Singapore.
---
As a final guide, here are some general tips for visiting Singapore (Could include some common tips that apply to other countries, as well):
If you are unsure if your ATM card will work in a local ATM, it's best to avoid using it to avoid the risk of the card being retained according to local policies. (I had my debit card retained and I never got it back)
Wear a mask when traveling on public transportation.
When on escalators or in an area where people may be walking or standing in close proximity to one another, stand on the left side and walk on the right.
Wait for people to exit the train before boarding.
When boarding a bus, enter through the front door and exit through the next door.
McDonald's and Burger King are both highly recommended for meals.
If you are accustomed to Middle Eastern cuisine, you may find Malay food to be less flavorful.
---
That's all for what you need to know before you plan your trip to Singapore.
In case you missed the first part of the blog series, here's a link to that: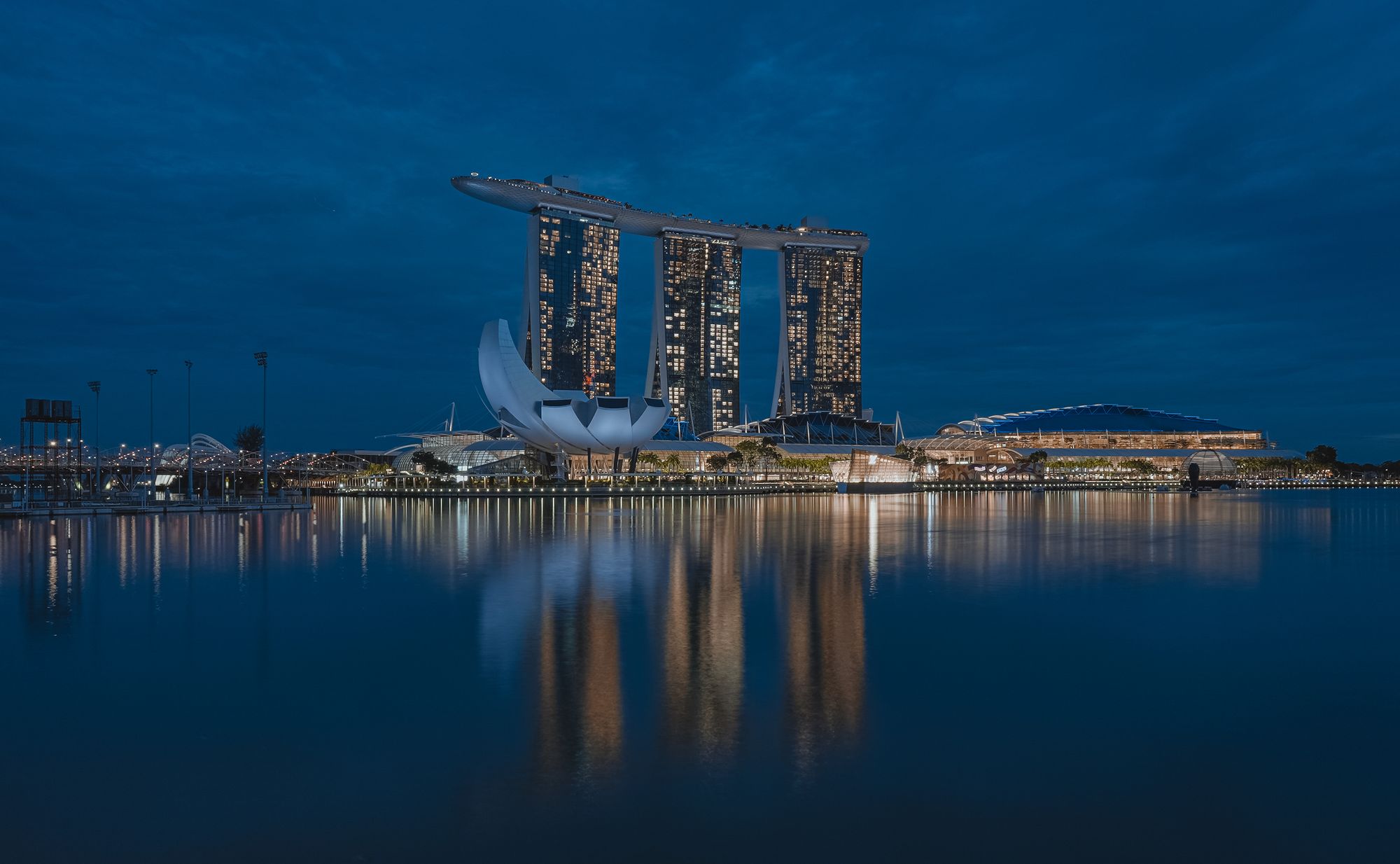 ---
And in case you prefer a video format of a travel guide, here's my travel guide + vlog that show you places worth visiting & what it costs to get around Singapore. 👇
---
If you have any further questions or concerns, feel free to reach out to me on Twitter or Instagram:
Happy travels! ✈️